What is Arthritis?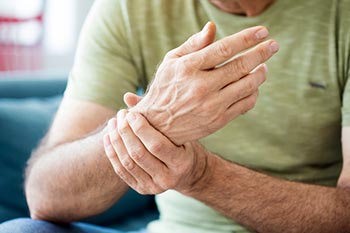 Arthritis is a general term that we used to describe inflammation in one or more of your joints. The main symptoms of arthritis are joint pain and stiffness, which typically worsens with time and mileage.
Types of Arthritis
By far, the 2 most common types of arthritis are degenerative arthritis (osteoarthritis) and rheumatoid arthritis.
As a rule, most arthritis results in a breakdown or loss of the hard, slippery tissue (hyaline cartilage) that normally covers the ends of the bones where they join to form a joint.
Arthritis Treatment
Treatment will vary depending on the type of arthritis and the extent of damage, but the earlier arthritis is identified and addressed, the longer you can expect to continue to function well without surgical intervention.
Your evaluation will likely include x-rays and may include laboratory tests or an MRI evaluation as well. Arthritic symptoms are usually well managed initially with pharmacological treatment (either oral medications or intra-articular injections), physical therapy, and activity modifications. More rarely, operative intervention is necessary to relieve pain and restore function.
Schedule Your Consultation Today!
To schedule your consultation with a top arthritis specialist in Webster, TX, please call ☎ (281) 481-2649 or fill out the form below!
---
Our Location
David G. Vanderweide, MD
333 N Texas Ave, Suite 2000
Webster, TX 77598
Phone: (281) 481-2649
Arthritis doctor serving patients in Webster, Clear Lake City, and the surrounding Houston - Sugar Land - Baytown, Harris County, Texas communities.