Orthopedic Surgery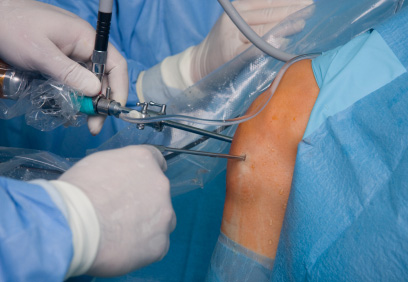 One of the most enjoyable parts of our practice is the variety of who and what we see on a given day. It's not unusual to see a 4-year-old and a 94-year-old in the waiting room on the same day.
We'd like to think that, with general care and proper diet and exercise, we can live our whole life without having to experience the pain and the inconvenience that comes with a broken bone, inflamed tendon or joint, pinched nerve or other musculoskeletal injuries. While we still hope that's the case for you, in the event that a mishap occurs and you find yourself a bit disconnected, we're happy to help get you to put it back together.
---

Orthopedic Treatment Options
Casts and Splints
Fortunately, a lot of fractures and other conditions require only immobilization in a cast or splint and "tincture of time" until the body does what it was created to do and you find yourself back on your way.
Injections and Physical Therapy
Some conditions resolve with the addition of injections or physical therapy.
Orthopedic Surgery
When surgery is required to address your problem, you can rest assured that you'll have all the time you need to discuss the options available to you.
We like to think that we have the most educated patients around because we spend the time necessary to explain your condition, the anatomy involved and the risks, benefits, and alternatives of treatment to your satisfaction.
---
Schedule Your Consultation Today!
To schedule your consultation with a top orthopedic surgeon in Webster, TX, please call ☎ (281) 481-2649 or fill out the form below!
---
Our Location
David G. Vanderweide, MD
333 N Texas Ave, Suite 2000
Webster, TX 77598
Phone: (281) 481-2649
Orthopedic surgeon serving patients in Webster, Clear Lake City, and the surrounding Houston - Sugar Land - Baytown, Harris County, Texas communities.