Strains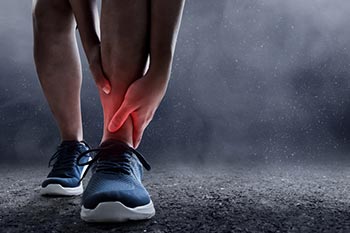 A strain is an injury to a muscle and/or tendon. Strains can be the result of overuse of muscles and tendons (chronic strain) or may be caused by a direct blow to an area of the body, overstretching, or excessive muscle contraction (acute strain).
Sprains
A sprain is an injury to a ligament, a fibrous band of connective tissue the joins the ends of one bone with another. Sprains are caused by trauma that overstretches and, in severe cases, ruptures the supporting ligaments. All sports and activities, even simply walking, carry some risk of a sprain.
Treatment of Strains and Sprains
Pain, bruising, swelling, and inflammation are common to all types of strains and sprains. While rest, ice, compression, and elevation (RICE) will usually help minimize damage, it is usually important to have a medical evaluation to assess the severity of the injury and establish a treatment and rehabilitation plan.
The majority of strains and sprains respond to conservative care, which may include bracing or physical therapy. Occasionally, an MRI is necessary to assess the degree of injury to the structure in question. Some injuries require surgical intervention to restore improved function.
Schedule Your Consultation Today!
To schedule your consultation with a top strain and sprain specialist in Webster, TX, please call ☎ (281) 481-2649 or fill out the form below!
---
Our Location
David G. Vanderweide, MD
333 N Texas Ave, Suite 2000
Webster, TX 77598
Phone: (281) 481-2649
Orthopedic surgeon serving patients in Webster, Clear Lake City, and the surrounding Houston - Sugar Land - Baytown, Harris County, Texas communities.